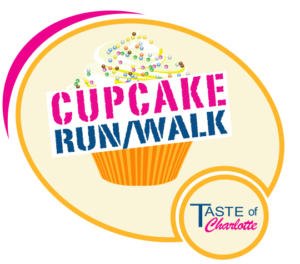 Taste of Charlotte Pink Cupcake Run/Walk & Breast Cancer Lap
Saturday, October 2, 2021 ~ 10am
Cupcake Run/Walk Details

#PinkCupcakeCLT

Taste of Charlotte's Pink Cupcake Run/Walk/Eat is back this year – with a new location!  You'll enjoy mini cupcakes from four bakeries while walking laps around Truist Field, home of the Charlotte Knights baseball team.  This year we've partnered with WBTV News and Go Jen Go, a non profit that provides financial assistance to families in the greater Charlotte area who are battling breast cancer.  

Everyone is invited: This is an inclusive event for the community. No matter what local breast cancer charities you like to support, we are inviting everyone into this central location to join in a celebration of Survivorship and help lift up those who fight.

The Pink Cupcake Run/Walk starts at 10am, before the Taste of Charlotte festival opens, giving participants a peek inside before the general public arrives.  Register, then grab your friends and join us at the baseball stadium in uptown for a fun 1 mile run/walk/jog/eat around the Charlotte Knight's field.  

As you pass home base after each lap, you'll get a delicious cupcake! WBTV's Molly Grantham will be there, as well as live music, and together we'll cheer on breast cancer Survivors, Fighters, and Thrivers as they take their own personal lap following the Pink Cupcake Run/ Walk. It will be a morning of love, support, and FUN. We'll also have a presentation after the Pink Cupcake Run/Walk/Eat from Go Jen Go.   

To register for one or both events, click the sign-up tab.  Additional donations provide critical financial support to local breast cancer patients and provides you with Taste of Charlotte coins to use after the run!  See the donate tab for more info.   ***If you would ike to get updates and stories from WBTV's Molly Grantham, be sure to select #TeamMolly when prompted to choose a team!****

Register for the Pink Cupcake Run/ Walk to have fun and eat cupcakes!  
Register for the free breast cancer walk if you are a breast cancer survivor, fighter or thriver!  
-OR-
You can register for both events and enjoy the cupcakes before taking your honorary lap around the field.  All levels get you a new 2021 #TeamMolly t-shirt and give a donation to Go Jen Go.  

T-shirt & Bib Pick Up:
T-Shirts & Bibs can be picked up the morning of the race starting at 9:00am.  


Early Pick Up is Monday, 9/27 through Friday, 10/1 between the hours of 8:30 a.m. – 5:00 p.m.
Registered participants will be required to wear a mask when they pick up their packet in the WBTV lobby area.

WBTV address:
1 Julian Price Place
Charlotte, NC  28208
704-374-3500
*Station located off Morehead between Freedom Drive and Wilkinson Blvd.