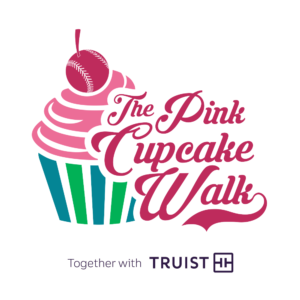 Pink Cupcake Walk & Breast Cancer Lap together with Truist
Saturday, October 7, 2023 ~ 9:30am
Pink Cupcake Walk Details
#PinkCupcakeCLT
Pink Cupcake Walk is back again this year!  You'll enjoy four mini cupcakes from local bakeries while walking laps around Truist Field, home of the Charlotte Knights baseball team.  This year we've partnered with WBTV and Go Jen Go, a non profit that provides financial assistance to families in the greater Charlotte area who are battling breast cancer.  
No matter what local breast cancer charities you like to support, we are inviting everyone to this central location to join in a unique celebration to lift up local Survivors, Thrivers, and Fighters. This year we have two shirt options.  Choose from a Supporter shirt or the collaborative shirt for all Survivors, Thrivers, and Fighters.  You will be asked to choose one of the two when selecting your t-shirt.
The Pink Cupcake Walk starts at 10am with gates to the field opening at 8:30am. Register today. Once signed up, plan to join us at the baseball stadium in Uptown on the first Saturday in October for four laps around the Charlotte Knight's baseball field. After each lap, you'll get a delicious cupcake from a local bakery. WBTV's Molly Grantham will be there, as well as live music to help us cheer on breast cancer Survivors, Fighters, and Thrivers. Get your friends and family to register with you. It'll be a morning of love, support, and FUN.
Participants of the Pink Cupcake Walk together with Truist will receive: the 2023 Pink Cupcake t-shirt (choose from our supporter shirt or the collaborative Survivor/Thriver/Fighter shirt), four mini cupcakes, and #TeamMolly emails from Molly Grantham with updates and profiles on remarkable breast cancer Survivors, Thrivers, and Fighters in our community. All registered participants are automatically on #TeamMolly. We invite you and your friends to still form a social team if you'd like to also have your own group name and crew!
To register, click HERE.

Featured Bakeries
Yum! Taste these on your way around the ballfield....